56 faith organisations from 26 countries, convened in Nairobi, Kenya, from December 7th to 9th, 2021 to imagine a shared future of flourishing harmonious communities, where everybody, regardless of religion, gender, age, culture, ethnicity, race, ability or any other dimension of diversity enjoys a dignified life and gave the following Interfaith Statement on human dignity, diversity and inclusion:
Faith to Action Network 2021 Convention Interfaith Statement 2021-12-08

---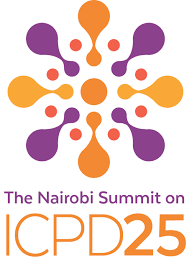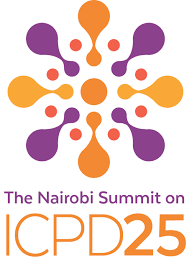 Nairobi, KENYA; 13 November 2019 (F2A) – Below is the full statement presented by Faith actors during the Nairobi Summit on ICPD+25.
STATEMENT OF COMMITMENTS OF FAITH ACTORS ATTENDING NAIROBI SUMMIT ON ICPD25
Your Excellencies, delegates and participants;
We, representatives of Hindu, Muslim and Christian faiths that attended the Religious Actors Pre-Summit on ICPD25.
We believe in the sacredness of life and affirm our responsibility to promote the wellbeing of humanity. We recognize that the dignity of every human being is fundamental in our respective religious beliefs and traditions. We, as religious leaders and faith actors, provide enormous opportunities for and contributions to accelerating the quest for a better world.
However, we are concerned that perspectives and alternatives provided by faith actors, especially from the majority world, are minimally included in global processes such as ICPD25. We are concerned on the use of terminologies and language that are unclear and prone to multiple interpretations, such as the terms 'diversity,' 'inclusive' and 'comprehensive'. We are also alarmed at the intent to introduce underage girls and boys to contraception.
Nevertheless, we do recognize that ICPD25 has many items that are locally and contextually beneficial to our constituencies. We recognize that our society is heavily infested with sexual and gender-based violence. Our mothers are increasingly dying in the process of giving birth or soon after. Our constituencies who wish to time or space pregnancies the means or information to do so.
In line with our Godly calling, we commit as follows:
To provide information and services on family planning/child spacing, to all persons, as is consistent with our faith values;
To inform and educate our constituencies to eradicate all forms of sexual and gender-based violence, including child, early and forced marriage, as well as female genital mutilation;
To inform and educate our constituencies to eradicate all forms of discrimination against any gender, especially women and girls;
To hold our governments and political leaders accountable in allocation and utilization of resources for implementing relevant programmes on population and development;
To ensure health services are affordable and available in fragile contexts, humanitarian settings and last mile communities;
To participate in policy making forums and contribute to policy development, including budget processes, at sub-national, national, regional and global levels;
To provide data from health facilities owned, or operated by faith groups, to national information systems in order to enhance planning for sustainable development;
To harness the demographic dividend by complimenting and supplementing government and other actors investments in the health, education and employment opportunities of young people;
We stand against all forms of human trafficking and forceful human migration and its causes; We shall always pray and advocate for peace and justice in our countries and the Globe at large.
Lastly we urge our African governments:
To guard against prohibitive costs of access to services, and to expand the cover of national health insurance schemes;
Not to impose additional or over taxation of citizens in the name of domestic resource mobilization and to curb corruption by strengthening public policies at all levels;
We therefore welcome our governments and the international community to partner with us toward the achievement of the ICPD Three Zeros by 2030 recognizing the protracted incidences of preventable maternal deaths, gender-based violence and inadequate quality reproductive healthcare services.
In conclusion, we reiterate that life is a gift from God, and therefore sacred; it ought not to be taken away through preventable causes. We therefore call upon everyone to uphold this sacred gift that you are. Thank you and may God of life continue be our Guide.
This is Statement was unanimously adopted on 11th day of November 2019 during the religious actors Pre-Summit on ICPD25.
#End of Statement
---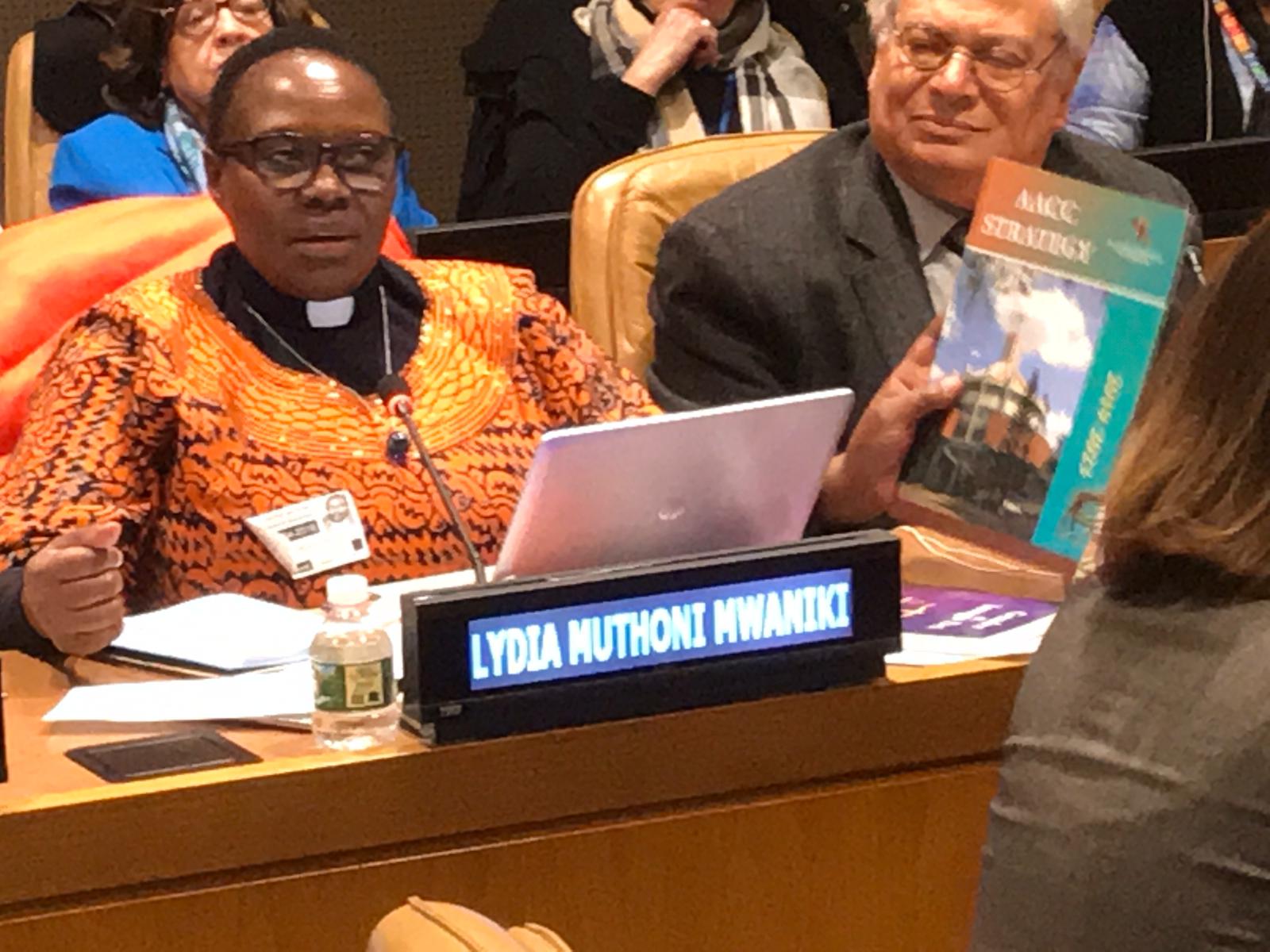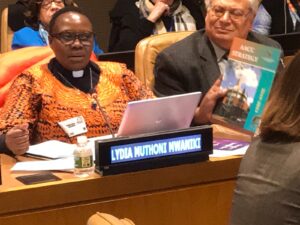 New York, USA, 04 April 2019 (F2A) – The All Africa Conference of Churches has led other religious coordinating bodies in  urging Member States of the United Nations not to regress on previous commitments on ICPD and all its reviews, including the commitment to agreed language on sexual and reproductive health and reproductive rights for all.
Speaking during the ongoing 52nd session of the Commission on Population and Development (CPD52), Reverend Dr. Lydia Mwaniki, Director of the department of Theology, Family Life and Gender Justice at the All Africa Conference of Churches (AACC), asked governments "to engage in dialogues that move away from polarisation and towards collaboration, and to ensure adequate resources to achieve the Programme of Action."
Rev Dr Mwaniki was giving an oral statement during the general debate at the ongoing #CPD52 on behalf of ACT Alliance, Faith to Action Network and the AACC. The full statement she read on behalf of faith-based actors is below:
---
Respected Chair, your Excellencies, thank you for this opportunity to express the views of a wide coalition of faith voices, which I am representing, including:
– ACT Alliance, a coalition of 152 Protestant and Orthodox churches and faith-based organizations working together.
-Faith to Action Network, a global interfaith network of more than 100 Baha'i, Buddhist, Christian, Confucian, Hindu and Muslim faith organisations. Together we work in over 120 countries.
We, as faith actors, support the Programme of the International Conference on Population and Development and the outcomes of its reviews, including the outcomes of the regional review conferences and commitments.
Based on our extensive experiences as faith-based actors, our recommendations to Member States are:
1)  The recognition of human dignity is fundamental to faith and religious traditions, and crucial in the pursuit of human rights. Human rights and religion are often presented at the UN spaces to be in opposition of each other, but for us, they share core values of dignity, justice, compassion and love. We urge member states to act out of those values and to "leave no-one behind".
2) We work with those facing many vulnerabilities, including having no or little access to sexual and reproductive health, and we see that this lack of access means that women and girls are dying unnecessarily. We urge member states not to regress on previous commitments on ICPD and all its reviews, including the commitment to agreed language on sexual and reproductive health and reproductive rights for all. We also urge member states not leave behind men and boys, as they too must play a critical role in promoting gender equality.
3) We urge governments to stand up for the integrity of the UN system, the community and multi-lateral-ism that the UN stands for, to engage in dialogues that move away from polarisation and towards collaboration, and to ensure adequate resources to achieve the Programme of Action.
It is in our interest and our moral responsibility that the Programme of Action is implemented, as it is essential for the achievement of the Sustainable Development Goals and 2030 Agenda, and fulfills our commitment that no one is 'left behind'.
Thank you!
---
#END OF ORAL STATEMENT
---
KENYA, Mombasa, March-11, 2018 - Whilst there are already comprehensive mechanisms in place that document the current status of ratification and domestication of the Maputo Protocol and the Maputo Plan of Action, few explore the pathways through which rights are operationalized in practice through laws, policies, administration, budgets and programs. Apart from a few well known cases, little is known about how Civil Society Organizations (CSOs), including Faith-based organizations (FBOs), influence these pathways and the challenges they face in mediating between duty bearers and rights holders.
Download
---
Kampala, Uganda (21 February 2018) - We, the faith and cultural leaders from the EAC Partner States,under the auspices of Faith to Action Network, have joined the EAC Heads of State Summit on Investment in Health of 2018 to deliberate on the major public health transformations fueled by changing human-animal environmental interactions, population dynamics and socio-economic development.
Download
---
The Baha'i Community has made significant contributions on the global arena's process of empowering women and creating a world of equality between the genders. The community issued a powerful statement as a follow-up to the Fourth World Conference on Women and to the twenty-third special session of the General Assembly entitled "Women 2000: gender equality, development and peace for the twenty-first century".
The statement affirmed a spiritual truth where women and men are equal, but acknowledged that this truth has been suppressed throughout history. It underscores the importance of the family as a crucial social environment within which formative education takes place and calls on societies not to exclude women from meaningful participation in work should they decide to dedicate a focused period of their lives to the rearing of children.
Download
---
---
Religious leaders from Christian, Muslim, Hindu, and Buddhist constituents have come together to express their support to the London Summit on Family Planning, an event hosted by the Bill and Melinda Gates Foundation and the UK Government on the occasion of the World Population Day, July 11th.
Download
---
---